One of the biggest pre-summer celebrations that everyone loves to participate in is Cinco de Mayo. Since everyone loves Cinco de Mayo food, check out these tasty Cinco de Mayo recipes and tasty Mexican food ideas. If you are planning a Cinco de Mayo party or just looking for ideas for taco night, I have all the best taco, appetizer and drink recipes for you!
Although we love to have our fun with the 5th of May, we need to remember that this day actually celebrates Mexico's victory over the French army and Napoleon the III at the Battle of Puebla in 1862.
Fun fact, not all of Mexico actually fully celebrates Cinco de Mayo, but the city of Puebla has festivals, parades, and they even shut places down to really get down and party. It should be noted that this is not Mexican Independence Day (which is September 16), but rather a monumental day remembering the day that the forces in Mexico were not going to permit a monarch from taking over the land.
You may have your own ways of celebrating or you may have never really celebrated it! Either way, you can throw an all-day fiesta with a lip-smacking variety of delicious food and drinks from south of the border. From salsa and tacos to margaritas, you and all your amigos can enjoy all of these recipes in a flavourful Mexico-inspired spread. Let me know your favourite Mexican food ideas which I have missed!
Go ahead and go loco this Cinco de Mayo while creating everyone's favorite Mexican Cinco do Mayo food. Whether you're throwing a Cinco de Mayo-inspired party or wanting to throw down some serious Mexican homestyle cooking for a meal, you will love these Mexican food favorites. Feliz Cinco de Mayo todos!
Cinco de Mayo Recipes
Drinks for Cinco de Mayo
A party ain't a party til the drinks come out! Dust off your blender and get ready to make some margaritas, because what is a Cinco de Mayo celebration without one? Make sure you have salt, sugar, tequila, and lime – then you will be good to go! Mmm.. I can taste the freshly blended strawberry margs already!
Frozen Strawberry Mango Margaritas with a Spiced Sugar Rim – This is super sweet and totally refreshing….and you won't want to have just one.
Frozen Watermelon Margarita – Does this not sound like the most refreshing drink you will ever have?!
Corona Sunrise – Not quite a marg, but it still is a tequila-infused cocktail so either way it is going to be amazing.
Michelada – Think of this as like a Mexican-style Bloody Mary – yum!
Even MORE Drinks for Cinco de Mayo!
The BEST Honeydew Melon Margarita – This honeydew melon margarita recipe is a summer favourite. It is fresh and sweet and TOTALLY DELICIOUS!
Refreshing Lime Pineapple Agua Fresca – It's a much-loved Mexican beverage recipe which is alcohol-free and made with fresh fruit.
Easy Homemade Mexican Horchata – This iced rice milk beverage is great to try out on Cinco de Mayo!
Passion Fruit Lime Margarita Cocktail – I'm sure there's some kind of passion fruit cocktail that's more thirst-quenching than this one. I just can't think of one!
Strawberry Paloma Tequila Cocktail with Fresh Grapefruit Juice – It might surprise you to know the paloma is the national drink of Mexico. Yes, that's right – not the margarita!
Appetizers to Enjoy May 5th
With these tasty appies, your Cinco de Mayo party will turn into a delicious fiesta. Be sure to whip up enough to feed a whole army because these won't last for long! You know I had to give a shout-out to my Tex-Mex fans out there and drop a recipe that I'm sure they all know and love. BTW these app snacks are perfect when you don't want to do dishes later. You will love these Mexican food ideas.
Tex Mex Sweet Pepper Poppers – Everyone is going to be POPPIN' these into their mouths and I can't blame them!
Mexican Chicken Flatbread – This is a more healthy alternative for your friends. I mean, you don't want them stuffed before the main course, do ya?!
Guacamole Shrimp Wonton Cups – Soooo how am I not supposed to eat a dozen little cups that are filled with two of my favorite things, hmm?
Mexican-Style Shrimp Ceviche with Avocado – It's a colourful and appetizing recipe with fresh shrimp, along with various salad ingredients and other flavours.
Tacos – Mexican Inspired Cinco Recipes
It's not a Cinco de Mayo celebration without tacos! I mean, who doesn't love tacos? (If you don't, we are not friends. Just kidding, but I am judging you 🙂 Whether you are a die-hard carnivore or a loyal vegetarian, there's a taco for both you and all your amigos. Maybe you will have a little of each – that is the fun of tacos! You will love these Cinco do Mayo recipes that make great ideas for taco night year round!
Cajun Fish Tacos – A mix of two different styles for one awesome taco. You can't tell me this doesn't sound like paradise. I would say that if you are looking for ideas for taco night…your search is over!
Carnitas Tacos – Chipotle has nothing on your perfect carnitas – just remember that slow and steady wins the taco race!
Chickpea Grilled Zucchini Tacos – If there was one word to describe this particular taco, it would definitely be FIESTA!
Crunchy Beef Tortilla Folded Wrap – This folded tortilla hack means you can get even more delicious fillings between each fold of your tortilla.
This Mexican elote street corn kale salad with spicy yogurt lime dressing is the perfect side dish for taco night! These are so many flavourful Mexican food ideas!
Other great ideas for taco night are these easy air fryer gluten free beef taquitos or these easy to make crispy turkey tacos.
Alternatively, if you are looking for a comfort food favourite then this super easy slow cooker chicken enchilada casserole is for you!!
Salsas and Dips for you Cinco de Mayo Party
Salsa, dips, and guacamole are essential components of any successful Cinco de Mayo party. Make sure you have tortilla chips galore and lots of different bowls ready for some dipping. These are some of my favorites that have the perfect flavors for a Cinco de Mayo party. Whether you make it from scratch or buy it in a jar, don't forget to have lots!
Strawberry Jalapeno Salsa – Love sweet and spicy? Let's have both then! Your guests are going to be begging for this recipe!
Avocado Hummus and Fresh Tomatillo Salsa Verde – This is like if guac, hummus, and salsa had the most yummy love child ever.
Mexican Street Corn Dip – If you are big on texture and are a street corn lover, you are going to need to make a gallon of this.
Simply DELICIOUS Fresh Traditional Chunky Guacamole Recipe – TRULY. TAKE MY WORD!
Popsicles with Alcohol, Please!
Make traditional Mexican drinks colder and more refreshing by turning them into popsicles. Not to mention, it makes adult-friendly drinks into a more childhood classic, so you can just feel the joy from that time while you are enjoying them! Popsicles are just flat out fun! It is the perfect way to top off a fabulous Cinco de Mayo menu.
Cucumber Honeydew Margarita Popsicle – The only thing that would make this better is lounging in a chair with someone fanning and misting you.
Watermelon Margarita Poptails – Are you a fan of sweet cocktails? This fan-favorite are sure to liven any Cinco de Mayo fiesta!
Tequila Lime Boozy Pops – A classic turned into a fun, adult treat! Be careful, it might be too easy to have one after the other!
Strawberry Mojito Popsicles – Start popsicle season off right with these beauties! You won't want to share.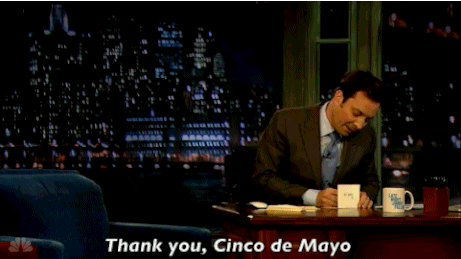 You might also like 30 Life-Changing Peanut Butter Recipes, 35 of the All-Time Best Pie Recipes, Valentine's Day Treats – 25 Sweet Ideas, or 25 Delicious Nutella Recipes.
Mexican Food Ideas for Cinco de Mayo
There you have it, everyone! Bella's secret Cinco de Mayo guide so that you can throw the most perfect party or impress anyone with some awesome, authentic Mexican-inspired dishes. So many great Cinco do Mayo ideas!
Be sure to have a fun time, drink responsibly, and enjoy as many tacos as humanly possible. If you need me, I will be swimming in a pool filled with guacamole with a frosty margarita in hand!
What is your favourite of these Cinco do Mayo recipes or Mexican food recipes? If you are planning a Cinco de Mayo party or just looking for ideas for taco night, this Cinco de Mayo food inspiration is for you!