Philadelphia is spoilt for historic sites and museums. One avenue alone will introduce you to some of the city's most important cultural institutions, including the Barnes Foundation, The Franklin Institute, The Academy of Natural Sciences of Drexel University and its crown jewel, the Philadelphia Museum of Art. Take a stroll down the Benjamin Franklin Parkway, modeled after the Avenue des Champs-Élysées in Paris, it is called Philadelphia's most artistic mile for good reason. Let's discover the best museums in Philadelphia!
Not only is Philadelphia one of the most beautiful cities in the US, but it is also a mecca for anyone that loves history and museums. Let's dive into Philadelphia's best museums.
1. National Constitution Center
It's only four pages long, but the U.S. Constitution is among the most influential and important documents in the history of the world. The 160,000-square-foot National Constitution Center dives into all aspects of this amazing document — drafted just a few blocks away — through high-tech exhibits, artifacts and interactive displays.
2. The Franklin Institute
An innovator in designing hands-on exhibits before "interactive" became a buzzword, The Franklin Institute offers an experience as unique as its namesake, Benjamin Franklin. A science and technology museum, its eminently touchable attractions explore science in disciplines ranging from sports to space.
Films assume grand proportions on the Tuttleman IMAX Theater's 79-foot domed screen, and galaxies become formed and deep space explored in The Fels Planetarium.
3. Betsy Ross House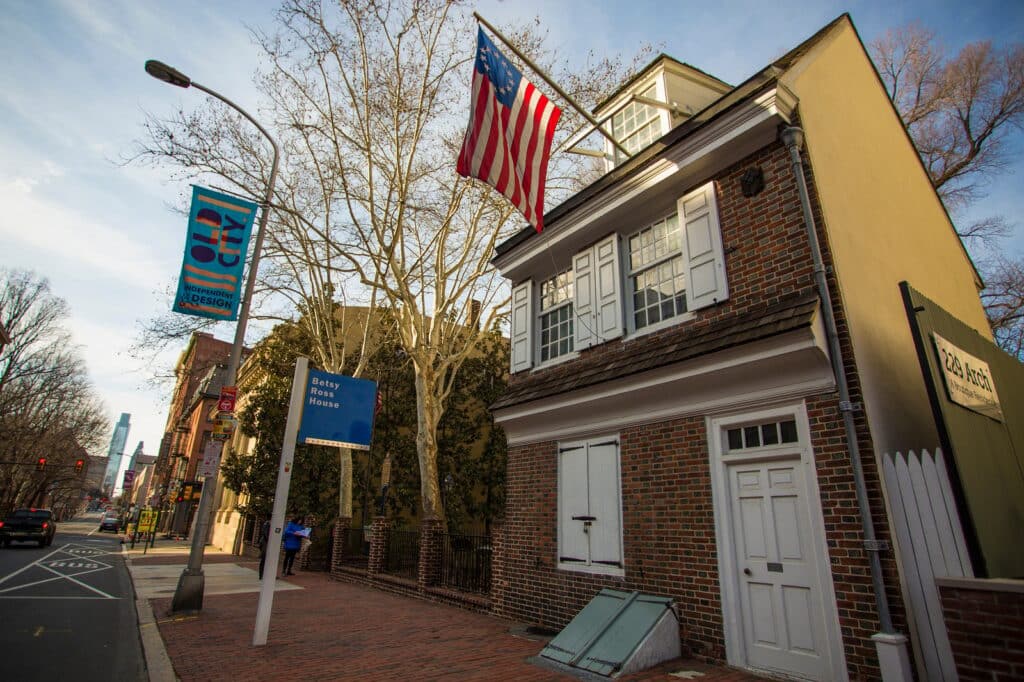 America's most famous flag maker greets guests at her 18th-century upholstery shop, part of a tiny dwelling where visitors learn about Ross' life and legend, and enjoy programs, storytelling and activities.
4. Museum of The American Revolution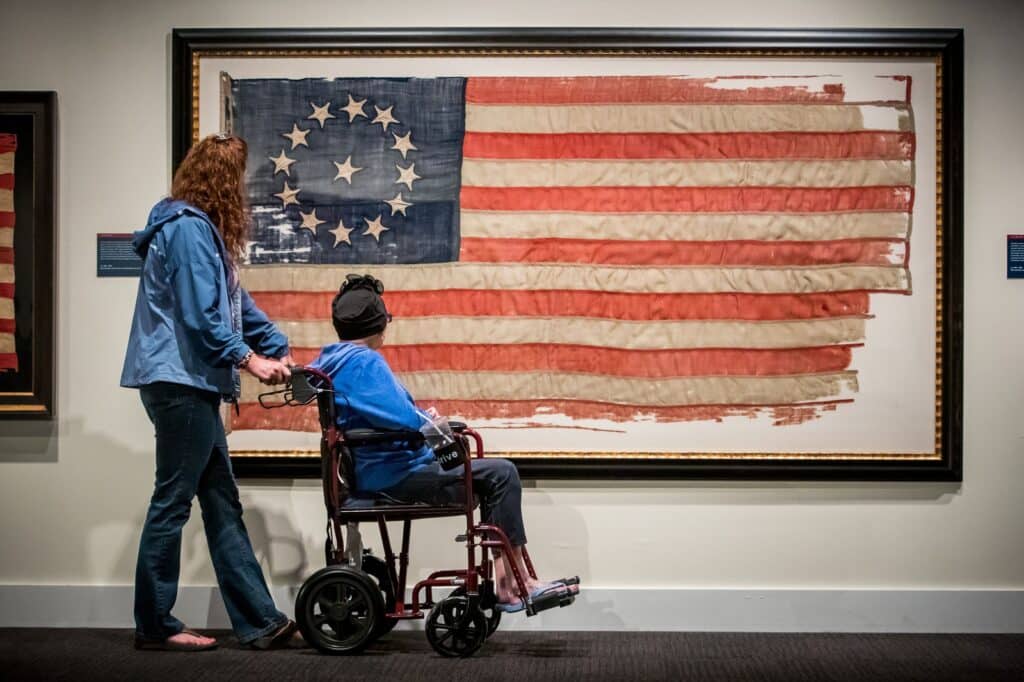 Just steps from Independence Hall, the Museum of the American Revolution traces the evolution of the American colonies from the earliest days of unrest through a legendary war and the improbable victory that led to a new nation. Immersive exhibitions and priceless artifacts include General Washington's original headquarters tent, Revolutionary War weaponry, centuries-old military documents and hundreds of other authentic objects.
5. Philadelphia Museum of Art
You might recognize the Philadelphia Museum of Art on Benjamin Franklin Pkwy from Rocky, where Sylvester Stallone's iconic training scene was shot.
One of the nation's largest art institutions, the Philadelphia Museum of Art rises majestically at the end of the Benjamin Franklin Parkway. There are vast collections, including Renaissance, American and impressionist art, and rotating special exhibitions. The one-acre Sculpture Garden extends the museum's galleries to the outdoors, as do its famous steps.
6. Barnes Foundation
The Barnes Foundation is home to one of the world's most important collections of impressionist, post-impressionist and early modernist paintings by renowned artists like Renoir, Cézanne, Picasso and van Gogh. The museum also showcases American paintings and decorative arts, metalwork, African sculpture and Native American textiles, jewelry and ceramics, all presented in philanthropist Albert C. Barnes' distinctive arrangements.
7. Rodin Museum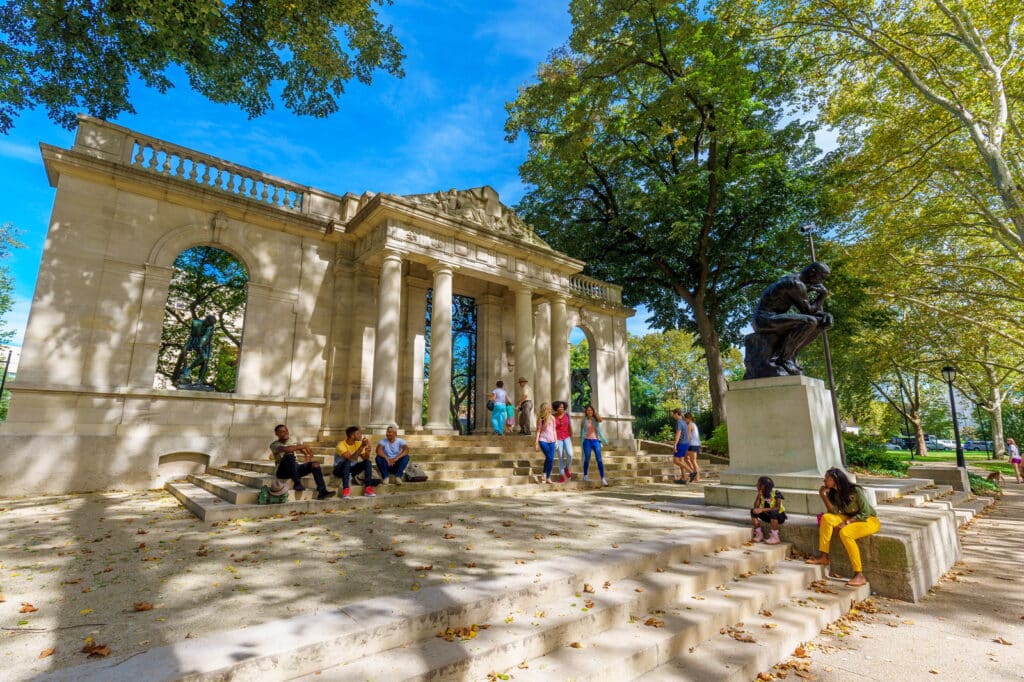 At home in the first American city to exhibit his works, the Benjamin Franklin Parkway's Rodin Museum houses the largest public collection of Auguste Rodin's works outside of Paris, including 20 of the French master's sculptures, as well as exhibits of drawings, paintings and academic studies. The museum's garden displays a bronze cast of The Thinker and the only original cast of The Gates of Hell in North America.
8. Academy of Natural Sciences of Drexel University
The Academy of Natural Sciences of Drexel University is America's oldest natural history museum. Visitors can wander through a tropical garden filled with live butterflies, meet live animals, see three continents of wildlife in their natural habitats and get face to face with towering dinosaurs.
9. African American Museum in Philadelphia
The African American Museum in Philadelphia has as a permanent core exhibition, Audacious Freedom, a groundbreaking historic and cultural display spanning two floors and presenting the stories of African Americans such as Richard Allen, Octavius Catto and Harriet Tubman through a series of informative and interactive presentations. The upper galleries host a rotating calendar of special exhibitions.
10. Weitzman National Museum of American Jewish History
Take a journey through 360 years of Jewish history in the U.S. at the Weitzman National Museum of American Jewish History, which is filled with more than 1,200 artifacts and documents, 2,500 images, 30 original films and 13 state-of-the-art interactive media displays — all free to visit (with a suggested donation). The experience delivers a rich tale that traces the path of the nation's Jewish diaspora from struggling immigrants to integral citizens. While you're there, snap a picture of the cheeky OY/YO sculpture installed outside of the museum entrance.
11. Pennsylvania Academy of the Fine Arts
The first art museum and school in the nation, the Pennsylvania Academy of the Fine Arts features elaborate Frank Furness architecture that's as compelling as the American art on display within. A Gilbert Stuart portrait of George Washington is a highlight, as are other well-known paintings by both classic and contemporary artists like Winslow Homer, Kehinde Wiley, John Singer Sargent, Jacob Lawrence, Edward Hopper and Cecilia Beaux.
12. Simeone Foundation Museum
Within the walls of the Simeone Foundation Museum — the only museum of its kind in North America — visitors find 60 of the world's rarest and most famous race cars from makers like Alfa Romeo, Bentley, Mercedes-Benz, Jaguar and Maserati.
The collection begins with a race car from 1909 and continues to the mid-1970s.
13. Eastern State Penitentiary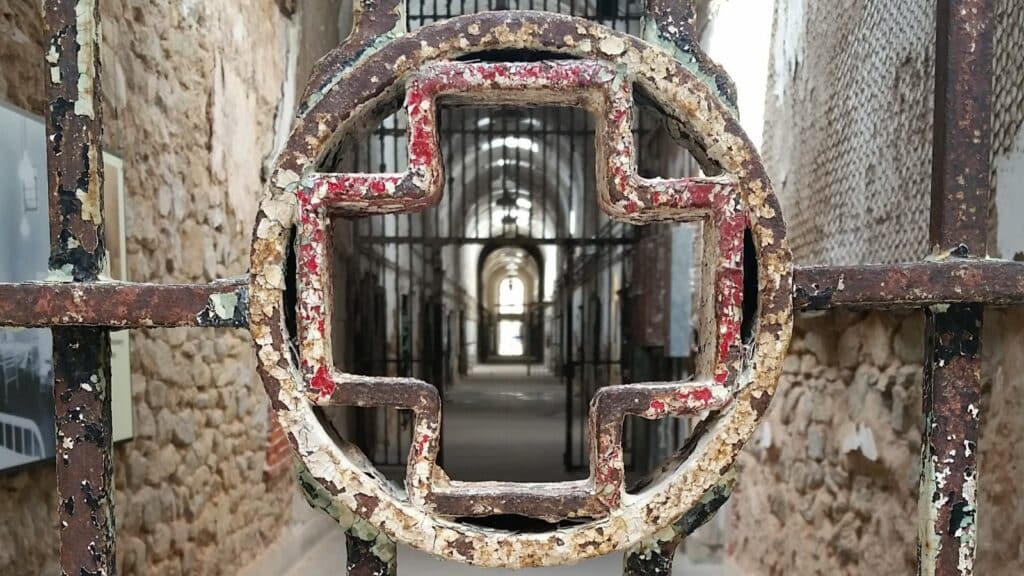 Once the most famous and expensive prison in the world, the massive Eastern State Penitentiary operated from 1829 to 1970 and introduced Americans to the concept of prison as a reform (penitentiary for "penance") tool.
Today, the site — which once housed notorious criminals like Al Capone and Willie Sutton — offers self-guided tours that explore the attraction's history, along with modern social justice issues that surround incarceration. If your visit brings you in October, be sure to experience the site's popular Halloween Nights immersive haunted house experience.
14. Please Touch Museum
Since 1976, Please Touch Museum has been the Children's Museum of Philadelphia. Over three decades and more than two million visitors later, Please Touch Museum has grown into one of the nation's premier children's museums by becoming experts in play.
The mission of the museum is to enrich the lives of children by creating learning opportunities through play, laying the foundation for a lifetime of hands-on learning and cultural awareness.
You Might Also Like
Margarita Ibbott is a travel and lifestyle blogger. She blogs about travel in Canada, the United States and Europe giving practical advice through restaurant, hotel and attraction reviews. She writes for DownshiftingPRO.com and other online media outlets.