If you're just coming across my blog or don't follow me on Instagram, you may not know that I have Type 1 diabetes. I share often on my Instagram and other social media, so I have collected a list of diabetes Instagram captions and diabetes puns. They are great to use for any Type 1 or Type 2 diabetic. Pick one of these great T1D caption ideas and get posting!
Since I was diagnosed, I have used my social media platforms to raise awareness for T1D. I do this by educating people both in and out of the diabetes community on the illness, debunking common myths, and sharing what my daily life looks like living with Type 1 diabetes. While I share a lot of information on my blog and YouTube channel, I also talk about it a lot on my Instagram account @BellaBucchiotti through captions for Type 1 diabetes.
Over 420 million people in the world have diabetes but less than 10% of those people are diagnosed with Type 1 diabetes (guess you could say I'm pretty special 😉.) When most people hear the word 'diabetes', they associate it with someone who eats unhealthy or eats too much sugar. One of my biggest points I advocate for is that's totally NOT TRUE.
Debunking myths like this (among many others) are what I like to share with my audience on Instagram because it's a topic that is not talked about enough! Through my YouTube and Instagram, I've been able to build a community of people who deal with Type 1 diabetes just like me so we can support and recognize each other. I am able to do this through providing valuable information by writing captions, puns, and quotes for diabetics that are super relatable.
T1D Caption Ideas
If you were to look at me, you wouldn't realize that I live with Type 1 diabetes and that is the case for many people who suffer from chronic illnesses. For me, it's important to show people that Type 1 diabetes doesn't look or feel one way for every person. It's also important to share that while it is tough living with a chronic illness, it has taught me so much over these past few years.
Since being diagnosed, I've been able to love and care for myself in ways I wasn't before. Those are the type of stories I like to share with the diabetes community to let them know that they're not alone and there is always a light at the end of the tunnel. And while it may seem punny (see what I did there?) to people at first, I often use diabetes puns to share my experience or important information about the illness. Listen, I'm going to be living with this for the rest of my life so I might as well have some fun!
If you're thinking of posting on your Instagram page about your life with Type 1 diabetes, you totally should! The more people share their experiences, the more understanding we all have that diabetes doesn't mean you can't live a normal life.
I'm sharing some of my favourite T1D caption ideas for Instagram (and not to toot my own horn, but I've got some really great ones!)
You might also like Myths About Type 1 Diabetes, Flying with an Insulin Pump or A Week in My Life with Type 1 Diabetes Vlog.
The Best Diabetes Instagram Captions
My pancreas gave up, but I never will
Being low in a grocery store is like being a bull in a china shop
I'm so sweet, it makes me sick
I can do anything… except make insulin
You're the apple juice to my low blood sugar
In need of an extra espresso + insulin shot today
Does this sweet smile make me look diabetic?
I got a juice in my bag, swag
Sorry you're not my type
I got 99 problem and they all involve carbs
If you can't handle me at my 23, you don't deserve me at my 5
Don't chance it, it's probably time to change your lancet
I honestly don't know what non-diabetics use a night stand for
Am I grumpy, or is my blood sugar insanely high?
Just trying to live my dia-best life
Tell me you're diabetic, without telling me you're diabetic
Don't mess with me, I attack my own pancreas
Before you ask, of course I can eat that… I'm diabetic not silly
My pancreas needs a restart
Don't cry over spilled milk. Cry over spilled insulin
Diabetes Puns and Caption Ideas
Spilled insulin is my perfume of choice
My pancreas kinda sucks at being a pancreas
Diabetes doesn't define me, but it does explain me
Love me, I have diabetes
Diabetic's are naturally sweet
This one time at diabetes camp…
Insulin junkie for life
Not cool pancreas, not cool…
I ain't doing it… said my pancreas
Insulin is my breakfast
Insulin is my breakfast, lunch + dinner
I don't need drugs to get high. A slice a pizza will do
Make my pancreas great again
Stop being such a pain in the pancreas
Yeah, but can you chug a juice box in your sleep?
I'm not ill. My pancreas is lazy
Please don't sugar coat it, I have diabetes
My pancreas ghosted me
WAP – weak ass pancreas
Type one of a kind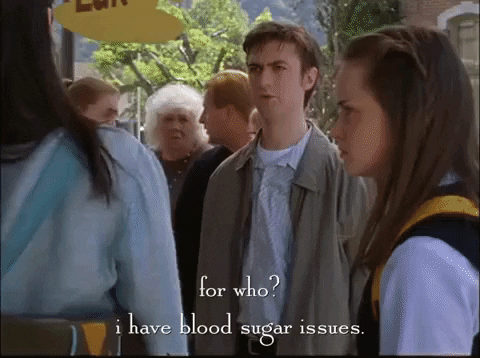 T1D Caption Ideas for Instagram
I'm a diabetic. What is your superpower?
A spoonful of insulin helps the sugar go down
Lets dia-beat this
My room is decorated with juice boxes
I deal with (finger) pricks daily
Home is where my insulin is
Whatever you do, give 100% unless its insulin
I'm as healthy as a horse (if that horse has diabetes)
Stop being a pain in my pancreas
Duck fiabetes
I hope these T1D caption ideas help you out. Don't forget to add all the diabetes hashtags to connect with other community members. Let me know if you have any other diabetes puns or captions for Type 1 or Type 2 to add to this list.
If you are always on the hunt for the best puns, quotes and captions for Instagram, I have several other Instagram captions posts to check out, or look me up on Instagram.
Bella Bucchiotti is a storyteller, food lover, dog mom and adventure seeker living on the Pacific coast. She shares her passion for food, dogs, fitness, adventures, travel and philanthropy, in hopes of encouraging followers to run the extra mile, try new recipes, visit unfamiliar places and stand for a cause. Bella lives with Type 1 Diabetes and Celiac Disease.