Okay, you turkeys, gather round the table. Bring your best homemade dish to share, and arm yourself with a fork, a knife, and a bib, if you please. Everyone's favourite feasting holiday is coming in hot and ready, and I want you to be prepared. Not like you need any reminding about why Thanksgiving gobbles up the title of Best Holiday – but I'm going to remind you anyway. Aside from the turkey and Thanksgiving puns and the bounty of Thanksgiving Instagram captions. You will even find some Happy Thanksgiving quotes to inspire your pics on the 'gram.
Thanksgiving brings you together with family and friends (whether you like it or not!). It's a day where we focus on being grateful for what we have, for the richness that fills our lives. A day of feeling warm (with meat sweats?), cared for, well-fed, and loved. It is a day spent with a happy heart, good food at a big dinner table and full stomachs.
Are you Looking for Turkey Day Captions and Puns?
I honestly feel thankful just for the opportunity to take a one day to be thankful, if that makes sense. Life moves at light speed, with obstacles popping up all over. Having a few hours set aside each year to just slow down, appreciate what you've been blessed with, and celebrate that with your loved ones is precious in it's own cute little way. There is so much to say how a thankful heart and a grateful heart make you feel on Thanksgiving Day.
But enough about the ooey-gooey feelings…let's get to the gravy. The turkey. The potatoes. The plating. All the apple pie. The way the cranberry sauce mixes so perfectly with everything else on the plate, in spite of the fact that it's still shaped like the can it came out of. There is so much food! A happy Thanksgiving has plenty of room to be visually beautiful, too. Just don't forget the stretchy pants aka Thanksgiving pants!
Caption Ideas for Thanksgiving
And what do we do with beautiful things? We put 'em on the 'Gram for everyone to see. There's no way anyone else's Thanksgiving dinner looks like ours, right? …Right? If you are looking for a funny Thanksgiving Instagram caption or a cute Thanksgiving caption for the pic of your turkey dinner, look no further!
A classic Thanksgiving spread is full of opportunity. Food that comes in rich, earthy tones of red, orange, and green. Dropping a couple of berries into the sparking apple cider. The slow flow of gravy down a mashed potato mountain, sliding into each nook and cranny, marrying into the perfect bite each time. Pies with leaf-shaped crusts. Steaming crescent rolls.
Oops, sorry. Are you guys drooling? I know I am. Now, I think it is time to find some fun Thanksgiving captions to celebrate the day!
Let's get back to the task at hand – picking a Thanksgiving Intagram caption that will have your followers drooling, too. Maybe funny enough that they're drooling from laughter? Or, maybe clever enough that they're drooling just trying to figure out how you came up with it? Happy Thanksgiving quotes that are timeless and true? Like a good little caption chef, I've thrown together a bit of everything. All the best Thanksgiving captions for your Charlie Brown Thanksgiving or Friendsgiving celebration. The perfect Instagram caption to post before you head off to Black Friday.
All the Cute Thanksgiving Captions
Whether you're posting a pic of your charming charcuterie boards, your pristinely planned plate, or your full belly in your Thanksgiving 'fit, you want a perfectly paired caption to enhance the flavour. If you can secure that, your followers with probably be thankful for you, too. Just for sharing. Cue the funny Thanksgiving Instagram captions!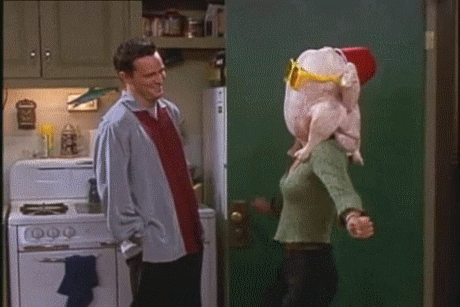 No need to give thanks to me, tho. I'm just doing what I love. This holiday is all about taking care of others, and this is just one of many ways for me to do that – even if it isn't the most traditional for the season. Enjoy this list full of turkey puns, thanksgiving puns, and every other Thanksgiving tidbit you could ever want. There are all the best Thanksgiving captions!
If you like these Thanksgiving Instagram captions, you might also like Apple Captions for your Apple Picking Adventure 'Grams, Gourd-geous Pumpkin Instagram Captions or Fall Instagram Captions to use When You're Falling for Autumn.
The Best Thanksgiving Captions for Instagram
To-do list: Eat, drink, nap
Gobble 'til you wobble
Entering FEAST mode
Talk turkey to me
PSA: Carbs don't count on Thanksgiving
Thankful for elastic waistbands
No fowl play allowed
No side dish left behind
STUFFED
Keep calm and gobble on
Turkey time!
I'm so grateful for sweatpants
Pies before guys
Way full…I feel #blessed
Thankful today, thankful always
You could say I'm a Pi-fan
Did someone say leftovers?
My little sweet potato
You're the gravy to my mashed potatoes
Thanksgiving requires a whole new dress code
All the Turkey Captions and Thanksgiving Puns
#stuffed
Calories don't count today
Is gravy a carb?
Feelin' too full
Do I practice fitness? Of course! Fitness all this food in my mouth
Stuffed with stuffing!
Havin' a gourd time with this cutie pie
Casse-rollin' with my homies
The dad jokes are plucking hilarious today
Squash goals
Stop, drop, and… pass the rolls!
I'm thankful for wine
Do you like my eating pants?
The party don't stop till I've tried everything
Stuffed like a Thanksgiving turkey
Good vibes and pumpkin pies
Thankful for my found family
Pumpkin kisses and harvest wishes
Already dreaming about leftovers
Happy Winesgiving
Happy Thanksgiving Quotes, Puns and Captions
I've never met a turkey I didn't like
Thanksgiving is officially the pre-Christmas feast
Already dreaming about leftovers
Happy Winesgiving
You could say I'm a Pi-fan
Bake the world a better place
You miss 100% of the leftovers you don't eat
I cran and will go back for seconds
Came in like a butterball
I can't cook, but I can eat
It's leg day
Keep your eyes on the pies
Thanksgiving is plucking awesome
Pour some gravy on… those mashed potatoes ASAP
Pumpkin kisses and harvest wishes
May your hearts be as full as your plates today
Feelin' like a butterball
Stuffing is the glue that holds my family together
Life doesn't get any butter than this
When in doubt, stuff it
Thanksgiving Instagram Captions and Turkey Pun Ideas
Casse-rollin' with my homies
Relationship status: Full of mashed potatoes
There's always room for seconds
Don't be a jerky, eat some turkey
And they lived apple-y ever after
I'm thankful for friends that have turned into family
The cutest pumpkin in the patch
Nobody puts gravy in the corner
Anything can be fixed with more stuffing
Leftovers are for quitters
Just keep eating, just keep eating
life is better when you're thankful
These are my eating pants
Pumpkin spice and everything nice
FACT: You can't answer your family's questions if you always have food in your mouth
#naptime
It's time for my food coma
Thanksgiving is officially the pre-Christmas feast
#Thankful
You had me at leftovers…
I hope you found some useful happy Thanksgiving Instagram captions for your Thanksgiving pics! Let me know if you have any other Thanksgiving Instagram captions or puns that I should add to my list. If you are always on the hunt for the best puns, quotes and captions for Instagram, I have several other Instagram captions posts to check out, or look me up on Instagram.
Bella Bucchiotti is a storyteller, food lover, dog mom and adventure seeker living on the Pacific coast. She shares her passion for food, dogs, fitness, adventures, travel and philanthropy, in hopes of encouraging followers to run the extra mile, try new recipes, visit unfamiliar places and stand for a cause. Bella lives with Type 1 Diabetes and Celiac Disease.