Flannel and apple picking? For fall? Groundbreaking, especially when combined with endless hours of brainstorming for the best apple Instagram captions, right? It doesn't matter how cliché it is — once the air starts to get crisp, something about picking your own fresh apples from the orchard while enjoying some apple cider, surrounded by a fresh mountain breeze and a great view, just feels right. Apple puns and apple captions are what you will need for your pics for the 'gram.
Yes, it's finally time to start slowly swapping our Instagram aesthetic from show-stopping summer hues with a warm autumnal colour galore. The tricky part? Now is also the time to start compiling lists of cute phrases — including funny quotes about apples, obv! We all want apple picking quotes, apple orchard captions and clever apple puns for captions for our Insta pics!
Evidently, I am the kind of gal who rushes to redecorate her living space with the arrival of each season. Furthermore, I am also that person who is eager to revamp her entire social media feed to perfectly match each seasonal vibe. And this time is all about apple puns, saturated colours, an array of flannel-focused ensembles and an Excel spreadsheet filled to the brim with apple picking caption ideas — sue me!
It's All About the Best Apple Instagram Captions
Luckily, autumn's comfy-cozy aesthetic is by far everyone's favourite. Why, I hear you ask? Well, judging from the myriad of fun fall activities you can partake in, there are so many opportunities to take advantage of the cutest apple picking caption ideas and fall-inspired sayings in general. Personally, I never miss the chance to kick-start every new season with a trip. That leaves me looking for the perfect apple picking Instagram captions!
Any trip to the orchard should include sneaking a couple of bites before you take your bag back home. And of course, posting up with your girls for a couple of cute self-timer snapshots! You know, those enviable photos of the apple orchard as soon as the sweater-weather kicks in. Yeap, they definitely bring in their fair share of double taps. It's for this reason that apple quotes for Instagram come in handy, my friends!
All funny apple quotes aside, a day at the apple orchard is more than just paying to do labour and harvesting your own fruit. It's about getting closer to nature, to seeing your food from start to finish. And for a lot of orchards, it also means tasty treats. Like cider and doughnuts. Did I mention that I am a hardcore fun of baking an apple pie every time I return from my afternoon strolls in the apple orchards? Now you know.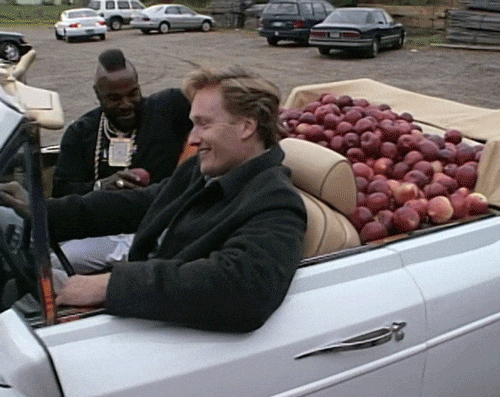 How To Choose Apple Picking Puns That Match Your Personality
IMO, you haven't lived until you've had a hot cider doughnut in the cool fall air, letting your crumbs roll down the orchard hills, smelling a hint of soured apples. Wow, I'm so excited for fall. That said, I am always up for putting together a list of clever apple sayings to accompany my occasional autumnal flatlays, my photos of the apple orchard, or every candid #OOTD snap during all fall activities.
Now, don't get me wrong. Not every photo posted during the most photogenic time of the year needs a fall-appropriate caption. After all, your social media posts should be a reflection of your own personality. By all means, feel free to save your favourite apple picking puns and sprinkle them in when needed. Although nailing your apple orchard aesthetic images is the most important part, choosing the most clever apple Instagram captions is almost as critical as the photo itself.
All the Best Apple Picking Captions and Puns
Like I mentioned earlier, having your own voice is a fool proof way of standing out from the crowd. That's why I rounded up a list of different tones ranging from cute quotes about apples and clever apple sayings to uplifting and funny quotes about apples. Maybe, your one is a bit sassy and playful, or you choose reliability above everything else. No matter what the case may be, your autumnal content is the perfect opportunity to show off your personality while flooding every fellow Instagram lover's homepage with inspo of the start of apple picking season.
Cute Phrases About Apples? I've Got You Covered
Anyways, I know you've got great taste in apples (Honeycrisp ftw!), and even better taste when it comes to choosing the perfect apple-picking 'fit (plaid forever!), but when it comes to harvesting the perfect caption, we can all use a little boost sometimes. Naturally, I've got a bushel of choices for you to go through – and together, we can bake the perfect Instagram post.
You might also like 75 Love Instagram Captions for When your Heart is Full, Apple Crumb Muffins or 36 Gourd-geous Pumpkin Instagram Captions.
Apple Instagram Captions
I'd pick you over and over
Ladies and gentlemen, a round of apple-ause!
I've got in-cider information
I find you a-peel-ing!
This is the apple-iest day of my life!
Orange you glad I didn't use an apple pun?
How 'bout them apples?!
I should stop making apple puns now… orchard I?
You're the apple of my eye
I pick you
Rotten to the core 🍎
I'm one bad apple, always spoiling my bunch
If you were a fruit, you'd be one fine-apple
An apple-solutley beautiful day
How about them apples?
I'm red-y to go apple picking
Get in, loser – we're going apple picking
I'd like to apple-ogize for the pun
You won't be-leaf the fun we're having
I've got all the in-cider information!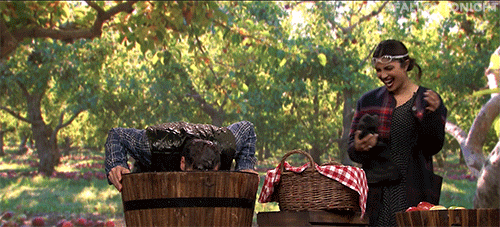 If you are an apple lover you MUST try this Vegan Gluten Free Apple Loaf, these Apple Crumb Muffins or this Gluten Free Vegan Gingerbread Apple Cake.
Apple Caption Ideas
Get in, loser – we're going apple picking
I'd like to apple-ogize for the pun
You won't be-leaf the fun we're having
I've got all the in-cider information!
Getting a little apple-sauced
…and they lived apple-y ever after
An apple a day will keep anyone away if thrown hard enough
If you want apples, sometimes you gotta shake the trees
Don't sit under the apple tree with anyone but me!
Rules donut apple-y to me!
If you're an apple, I'm a pie
I'm one bad apple 🍎
Smitten to the core!
An apple a day keeps anyone away – if you throw it hard enough
If Heaven is an apple orchard, call me an angel
Stay by my cider!
I decided to branch out today
Hey apple, way to grow!
We might be apples and oranges, but we make a pretty great pear
Apples: Stop picking on me. Me: Stop being so tasty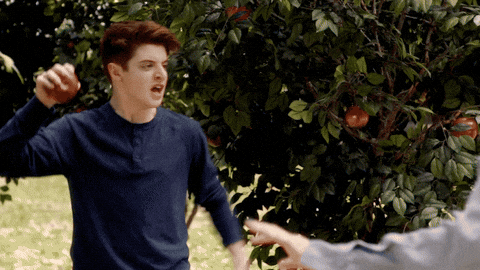 Apple Puns, Quotes and Captions
If you need me, I'll be right be-cider you
We're outstanding in our field.
She is the apple of my eye
Slice, slice baby!
Get in my car loser we will go apple picking today
Keep calm and enjoy your apple.
The sweeter the apple the sourer the core
When life gives you lemons, make apple juice and shock everyone
Fruits can nourish your core
This autumn, I'm going bananas for apples
Stick with me like apple and caramel
An whole apple can look round but a half apple cannot
Thanksgiving is incomplete without a good apple pie
I'm at an apple orchard, under autumn skies, sipping hot chocolate, and eating apple pies
#🍎🍎🍎
Apple of my pie
I hope you find the perfect Instagram captions for your apple orchard and picking pics. May you find all the BEST APPLES! If you are sitting here enjoying a pumpkin spice latte or a slice of pumpkin pie while looking at photos from the pumpkin patch and looking for the perfect fall Instagram captions – well, you need pumpkin Instagram captions instead!
Let me know if there are any other apple captions that I should add to this list of apple Instagram captions for all your orchard and autumn pics! Don't forget to follow along with me on Instagram if you aren't already.