Pumpkin spice, pumpkin cold brew, pumpkin pie, pumpkin-colored sweaters, pumpkin emojis, pumpkins on the porch steps, stuffed pumpkins on my bookshelf, and of course, a day at the pumpkin patch. These pumpkin Instagram captions will help inspire you and your pumpkin patch pics this October.
Call me corny, but every time the weather cools down and the leaves start to change, I go crazy for pumpkin.
There's just something about seeing hills covered in pumpkins, as far as the eye can see, that sets the mood for fall just right. Hopping off the hayride, splashing into a puddle of mud, and weaving through all the pumpkins until you find the perfect one…ah, heaven.
I can't explain how to know when you've found the perfect pumpkin. It's just a feeling you have inside. Sometimes it's the shape, how big it is. Sometimes, it's the big old suspicious bumps covering it. Other times it's the orange glow. But when you find it, you'll know. Like a cosmic pumpkin bond.
Just the way when you see the perfect pumpkin pic for Insta, you just know. Could be the way your hair frames your face, or the perfect sprinkle of dirt on your boots, or your jack-o-lantern smile. But when you've got it, you're going to want a caption that matches the vibe. Check out my list for ideas to get your pumpkin rolling.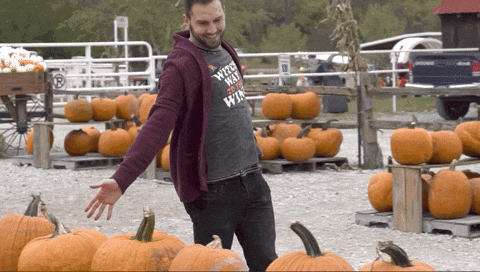 You might also like 8 Fabulous Fall Date Ideas, 50 Fall Instagram Captions to use When You're Falling for Autumn, My Fall Reading List or The Only Fall Bucket List You'll Need This Season.
Pumpkin Instagram Captions
Cutest pumpkins in the patch
Give 'em pumpkin to talk about
At this point my blood type is pumpkin spice
Pumped for pumpkins!
I'm ahead of the carve
Oh my gourd!
Pumpkin is the spice of life
Looking gourd-geous, darling!
Aw, pumpkin!
I'm a pun king
Welcome to our patch.
Pumpkin spice and everything nice
Oh my gourdness, it's autumn!
Keep calm and buy pumpkins
This jack-o-lantern is gonna be lit
Ready to squash
#PumpkinEverything
You are the pick of the patch
More Pumpkin Captions for Patch Pics
#SquashGoals
Pun-kin patch!
Let's carve out some fun
You really struck a gourd with me
Gourd out of my mind
Great Pumpkin believer since 1966
World's okayest pumpkin carver
What do you get when you drop a pumpkin? Squash
Pumpkin kisses and harvest wishes
Gourd of the rings
Catch me carving out a little fall fun
Let's give 'em pumpkin to talk about!
Go big or gourd home!
Dear gourd!
The smashing pumpkins
Have a gourd time!
In fall, orange is my favorite color
It's lit like a pumpkin spice candle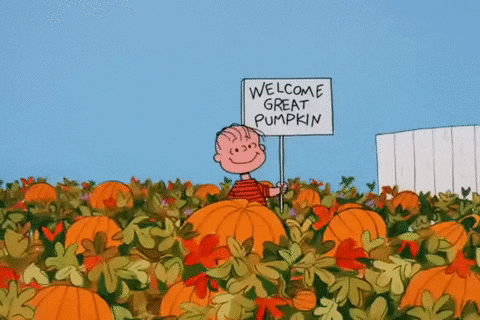 Let me know if you have any other ideas for pumpkin Instagram captions that I should add to this list. These pumpkin captions will help you with all your pumpkin patch pics this season! If you are in Halloween mode already check out Halloween Instagram captions or dog and owner Halloween costume ideas.