I don't know what it is, but something about Fall just hits different. The way the air smells, the way the fall foliage looks against the sky, the chilly nights…it's magical, a little bit, right? Change is in the crisp air. I instantly start to drool over the idea of eating a fresh slice of pumpkin pie on the front porch at sunset in my favourite brown beanie. This Fall bucket list for adults has all the fall activities and all the must-do things to do this Fall. How many items are you going to check off your Autumn bucket list?
…too much? What can I say, I'm still full of great ideas from last fall that I didn't get to try out yet! The laces on my boots are barely tied before I'm running out the door (with a presh fall wreath on it, obvi) to make the most of this season and start a new great adventure. Experiencing fall to the fullest is a part of experiencing life to the fullest, and there's no way I'm passing that up this year.
Fall Activities for your Bucket List
You know what else is in the air? Sure, there are bats; but I was talking about Fall activities. There's literally so many fun things to do this fall that it would be impossible to keep track of all of them in your head (my head, too!!) without going crazy. So I did what any sane person would do: I put them all together into a fall bucket list. I want you to have your great ideas all in one spot, so you don't waste the most perfect time of year.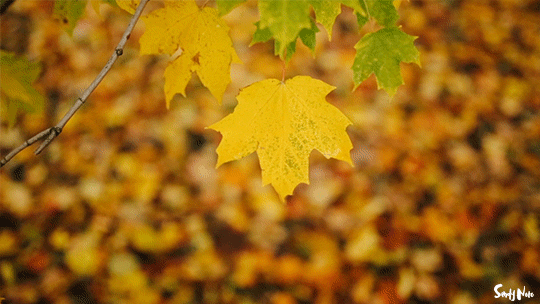 Whether you are booed up on the couch with some scary movies or are headed to the haunted houses with your besties, this Fall bucket list is full of good ideas. More than just a standard visit to your local orchard to pick apples or wearing cozy sweaters. Don't get me wrong, I love to be basic too. But this is seriously the ultimate to-do list for all my Fall lovers! (Hint: if bad allergies are part of your life, I give you permission to skip the hay ride.)
I mean, come on, who doesn't love this time of year?!
It's hard not to when you are coming off of the heat and craziness that is the summer. Not that I don't love summer, but…listen. It's got its faults. First of all, sweat. Second of all, humidity – or sweaty air. Third of all, no way to drink apple cider. What's up with that?? That's why Fall is where it's at. It's got the best yummy treats. All the best fall weekend activities. The best weather. The best colour palette for family photos.
Falling in Love with Fall
I have noticed over the last few years that Fall is becoming more and more trendy. I like to think it makes sense with those gorgeous fall colours, right? The trendier the better, though. Fall being such a hot topic is a great thing for us because that means for cuter outfits, more activities being created, and yummy new recipes coming out of Pinterest! Read on for my favourite autumn bucket list ideas. Once you get to the bottom of this post, you'll be so inspired you won't know what to do with yourself. You just might be…falling in love with fall, just like me.
Here I have listed every – AND I MEAN EVERY – fun fall idea you can do this Fall whether you are doing it yourself, out with friends and family, or with your beau (or in my case, Beau, my pup!). I triple dog dare you to print this list of fun fall things out and cross out every activity listed – because I will be doing the same. It is a great way to make your way through the season. Share on Instagram with me your completed list and let's see who gets the most done before winter rolls around!
Fall Bucket List Ideas
Apple picking which is an absolute must-do on the fall bucket list. If you do, you need these apple Instagram caption ideas.
Pumpkin patch and use my pumpkin caption ideas list.
Take a scenic drive to the corn maze
Go to a football game and tailgate!
Pumpkin carving
Make your own Halloween costumes
Throw a Roaring 20s themed Halloween party
go visit a haunted house, if you dare!
Bake some pies (apple, pumpkin, all the fruit!). Here are the best pie recipes to check out.
Decorate for Fall using DIY projects
Have a bonfire – don't forget the s'mores!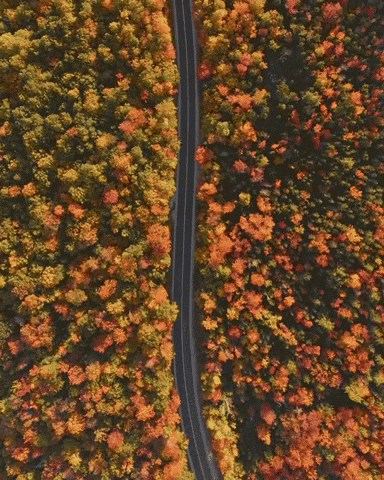 Things to do this Fall
Redo your closet with trendy Fall fashion
Take a road trip to look at the Fall leaves or local pumpkin patches
Pass out candy to trick or treaters
Go hiking in a leafy, scenic area – one of my favourite fun fall activities
Host a scary movie marathon and check out my fave Halloween movie list.
Go to a harvest festival or your local fall festival or fair
Amp up your soup game (try my split pea lentil soup)
Write thankful cards to loved ones for Thanksgiving
Help a kiddo get ready to go back to school
Go on a hayride – another autumn bucket list must!
You might also like Summertime Bucket List, The All-Time Best Travel Movies List, or Tips and Tricks to Keep Your Plants Alive.
Fall Bucket List for Adults
Treat yourself and get a Pumpkin Spice Latte!
Try geocaching – a fun fall bucket list activity
Have a chili cook off with friends
Visit a farm
Make and eat some seasonal doughnuts or make these Halloween donuts.
If you enjoy this list of fall activities, you might also like 70 Fall Instagram Captions to use When You're Falling for Autumn, 55 Apple Captions for your Apple Picking Adventure 'Grams or 45 Gourd-geous Pumpkin Instagram Captions.
More for the Autumn Bucket List
Take a drive to a place you haven't been to before
Take a Fall family picture
Look up outdoor art shows/craft fairs
Go farmer's market shopping
Try a food you never have at Thanksgiving
Make leaf art
Put together a puzzle with bae on a chilly day
Purchase a Fall-themed mug for all your Fall beverages
Enjoy fresh apple cider from your local farm or orchard
Match with or create a Halloween costume with your pet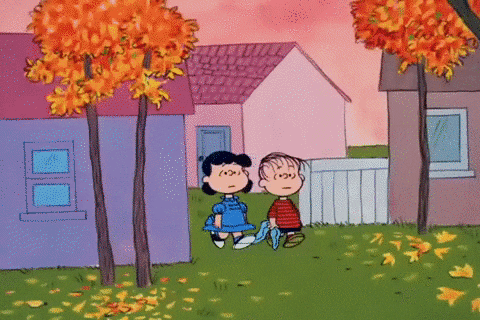 Watch "It's The Great Pumpkin, Charlie Brown!"
Make a Halloween playlist
Create a scarecrow with the kids in your life
Make a ton of popcorn and make popcorn balls or just enjoy as is
Set an elegant Thanksgiving table and get dressed up
Watch the Macy's Thanksgiving Day Parade with the fam
Go Black Friday shopping….eh maybe just wait until Cyber Monday
Make a wish with the wishbone of the turkey
Participate in a costume contest
Make a Fall themed Pinterest board (who am I kidding I know you already have one)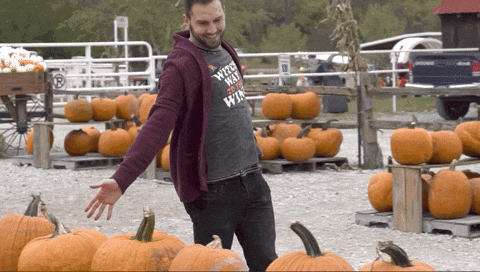 Fall Activities you will Love
Bake pumpkin bread, apple pie or a pumpkin pie
Create a flannel party where everyone has to wear their best flannel
Break out the cozy blankets and sweaters
Create a thankful journal for the month of November (and continue afterwards!)
Donate your never worn summer clothes
Time to get all the Fall scented candles!!!!
Plan a Fall picnic
Play backyard football with family
Go camping to experience the Autumn foliage
And my personal favorite – create a Fall themed bouquet of plants and flowers!
You might also like My Fall Reading List, 50 Fall Instagram Captions to use When You're Falling for Autumn, or 8 Fabulous Fall Date Ideas.
What else should I add to my fall bucket list for adults? What is on your autumn bucket list this year? Thanks for following along!