If you like your October and Halloween themed movies on the lighter side like me, then this list is for you! All my favorite Halloween movies to watch this October in one place. What is on your list?
Halloween Movies to Watch – The List!
Although I have a HUGE admiration of everything Fall and Halloween related, I enjoy the movies that do have a spooky factor, but tend to be lighter. Nonetheless, these are all classics that I know you enjoy (or will soon enjoy!) during the cooler nights of October! You will love my list of favorite Halloween movies to watch this October
The Nightmare Before Christmas
An absolute Halloween classic! Jack Skellington, Halloweentown's adored Pumpkin King, falls bored with the same routine of being spooky and scary. He stumbles upon a little place called Christmastown where he discovers bright colors and a whole lot of joy and love for a man they call Santa Claus. Once Jack decides he wants what Santa has, he takes a journey of self-discovery and finding new priorities that may not be all they're cracked up to be. This has to be on your list of Halloween movies to watch!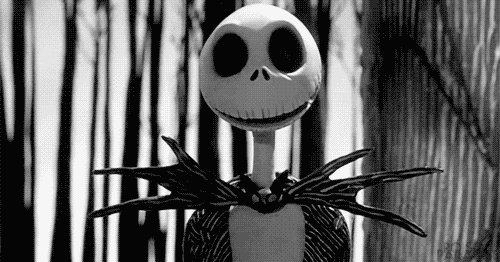 Casper the Friendly Ghost
Although the premise of the movie is surrounded by the fact this child ghost is following another child, it is one of the most heart-warming movies made. Casper lovingly haunts a mansion and befriends a human child, Kat. He means absolutely no harm, but knows that other apparitions aren't as….friendly. Him and Kat go on adventures to prevent mischief from ensuing and at the end of it all, love prevails (even in a Halloween-themed movie!)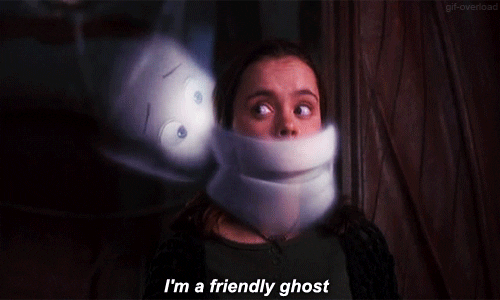 Halloweentown
#HalloweenIsCool ! Here's the one thing I always took from this movie – don't follow your grandma anywhere because that only leads opening several cans of worms! When Marnie discovers that her and her family are from a lineage filled with witches, they discover the hidden gem of Halloweentown. This is a place that whose with supernatural powers come to lead a normal life and learn to control their new discoveries. All this leads to an epic fight between good and evil and all things Halloween. I didn't experience Halloween if I didn't watch this!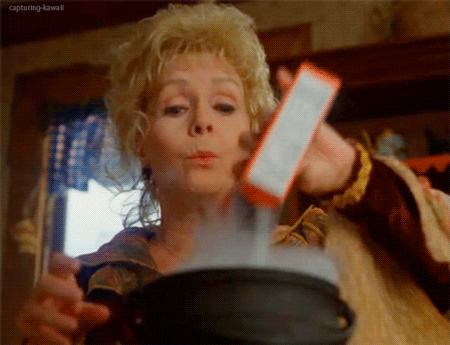 Hocus Pocus
One of my all time favorite Halloween movies to watch is Hocus Pocus! I mean come on, who doesn't love the Sanderson Sisters?! After a couple of friends are messing around talking of a superstitious story after dark (I mean come on – they had it coming, have they not seen horror films?!) they accidentally release the witches to the real world once again. With the help of a friendly, but possessed cat, they team up to stop them from becoming immortal!

Twitches
Sister, sister! Tia and Tamera Mowery star in the Disney Channel classic movie where twins, who were separated at birth, find each other one day but then they also discover something else insane – they are witches! Twins + witches = Twitches! In the nick of time they find each other to team up against the dark forces of the universe to save the world! Dramatic? Yes. But it is Disney, after all!
Beetlejuice
Creepy vibes equals Halloween show time. Just don't look in the mirror and say "Beetlejuice" three times. AH – you just went and did it, didn't you? The rambunctious spirit, Beetlejuice, comes to the aid of his two deceased friends who are trying to scare off an annoying family who has come to live in the home they are haunting. After their attempts have been nothing short of failures, they called in the creepiest of reinforcements. You wither like this or you don't but it is one of the classic Halloween movies to watch.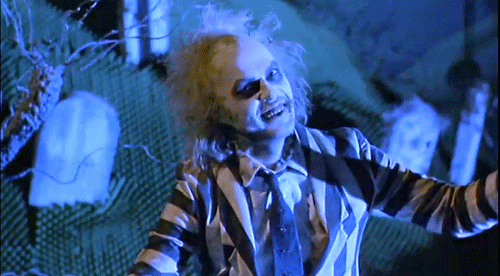 Corpse Bride
This Tim Burton film gives us all the feels – the good and spooky ones. A dead woman named Emily brings living Victor down to the underworld with him as he walks alone in a forest before his wedding. She becomes infatuated with him and wants to marry him – you know a typical Romeo and Juliett storyline where one person is alive and the other dead. However, with an interesting twist on how Emily dies and how that relates to Victor's fiancee above ground, the two decide he needs to return to earth before evil conquers.
The Addam's Family
This GIF is my mood always. When it comes to the 1991 classic spooky movie – don't mess with the Addam's family! As a man comes to the family's home and claiming to be a long-lost family member, they rejoice in his return. Except for Morticia who is weary of the man. And frankly, for good reason. Both the family and the stranger conspire against one another while under the same roof, making for an interesting and wild family gathering.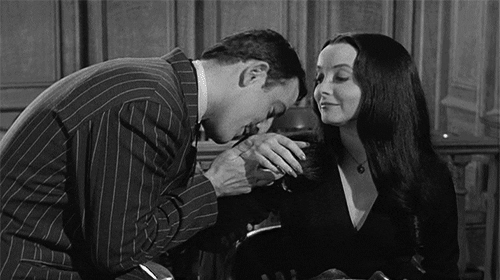 Ghostbusters
Who ya gonna call?! GHOSTBUSTERS! Whether it's the 1984 or 2016 version – they are both the bomb! When a group of scientists lose their jobs at a university, they decide to become "ghostbusters" and remove ghosts from where they are not welcomed. Which is really anywhere, honestly. When they start getting more wrapped up in the world of the afterlife, they find they are the only ones who can save New York City from a complete ghostly invasion. While this is on my list of Halloween movies to watch — I could watch this any time of the year!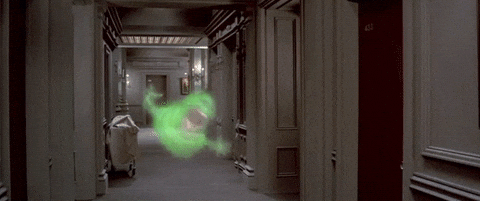 You might also like to read Spooktacular Halloween Donuts, 7 Last Minute Mother's Day Ideas, 20 Feel Good Movies to Distract Yourself With or 25 Of the Best Girls Night Movies.
It's the Great Pumpkin, Charlie Brown!
Adulting be like "I got a rock" when I go out for trick or treating nowadays. Haha! This is just one of those wholesome movies that everyone has to watch every year. And if you don't, you need to start making this a tradition ASAP. As Halloween approaches for Charlie Brown and friends, they prepare for the arrival of the Great Pumpkin. Despite Charlie Brown's disbelief in it, Linus continues to write his annual letter to the Great Pumpkin in hopes to eventually prove his buddy wrong.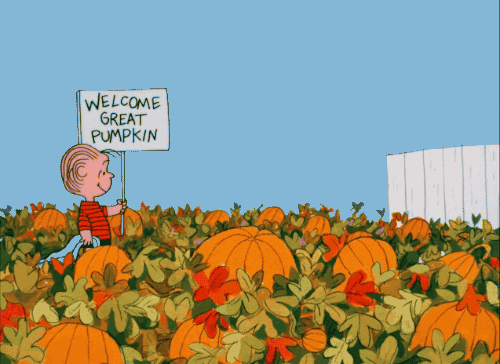 Are there any that I missed?! Yes – I know about all of the other scary classics but we don't talk about them here! 😉 I hope you're ready for longer nights and cooler weather so that this list can be a great way to kill time and you can cuddle up with someone you love! And ok, I will give scary movies the romantic advantage when you get scared and all that jazz, but that's it!
Hope you enjoy your nights in this October! I recommend you try this Halloween Bark for your movie night.