Gnocchi has been one of my favourite pastas for as long as I can remember. When I was little, I would push a chair up to the counter and make them with my Nonna…who made all the BEST food. This gluten free sweet potato gnocchi recipe is a take on Nonna's gnocchi that fits with all my food allergy requirements.
Gnocchi is a traditional Italian food that is gaining in popularity. Not just because it is culturally rich food, it is also a nutritionally rich food, which can be utilized for many purposes.

While gnocchi is usually made with gluten-based flour, and sometimes even dairy, I have decided to make this recipe gluten free, as well as vegan. So you can enjoy this delicious meal regardless of your dietary preferences or necessities. Either way you have it, this gluten free sweet potato is still delicious and mouth-watering.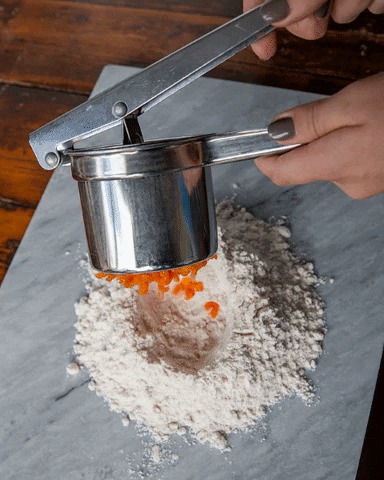 You Need a Potato Ricer in Your Life!
So let's start with the basics:

What is gnocchi?

Gnocchi are small dumplings that are made by combining flour and potato. You then boil them to make a type of pasta. It is a traditional Italian dish and can impart a wide amount of flavor with minimal effort. Using sweet potatoes, like we are doing today, also adds in a lot of vitamins. You also get more minerals, such as Vitamin C, Vitamin A, Vitamin B6, and Potassium.
Gluten Free Sweet Potato Gnocchi Recipe
Sweet Potato Gnocchi
Gnocchi has been one of my favourite pastas for as long as I can remember. This gluten free sweet potato gnocchi recipe is a take on Nonna's gnocchi that fits with all my food allergy requirements.
Print
Save
Saved!
Ingredients
Sauce:
1/3

Cup

butter

vegan or real

2

Cups

cherry tomatoes

1

Sprig

rosemary

3

Sage leaves
Instructions
Peel all of the potatoes and cut into even sized chunks.

Cook the potatoes in the microwave for 10 to 15 minutes (until a fork goes through them easily). Set aside to cool for 15 minutes.

Flour a work surface and pour the flour onto the surface making a well in the middle of the flour.

Once the potatoes are cool enough to handle, put them in a potato ricer and mash into the well of the flour.

Flour your hands incorporate the sweet potato into the flour by hand.

Once combined, roll the potato dough into a ball and cut it into 4 even pieces.

Roll each piece into a log that is about 1/2 an inch thick.

Cut the log into 1 inch pieces to create the gnocchi pieces. Gently toss each piece into flour to remove any stickiness.

Use a fork to gently press grooves into each piece of gnocchi. Toss on more flour if required.

Heat a pot of water to a boil. Add in the gnocchi and let cook for a couple minutes. Once the gnocchi floats to the surface of the water, then remove it from the water using a slotted spoon. Do not over cook or they will get mushy.

Chop the rosemary (remove stems) and the sage. Cut the cherry tomatoes in half.

Melt butter in a pan and add the chopped herbs. Cook for a few minutes on medium. Add in the tomatoes and cook for a few more minutes. Add in the cooked gnocchi and mix them into the butter mixture.

Serve in small bowl or plate with freshly grated (vegan or real) parmesan cheese. Garnish with a few sprigs of rosemary if you wish.
Nutrition
Calories:
290
kcal
|
Carbohydrates:
63
g
|
Protein:
8
g
|
Fat:
2
g
|
Saturated Fat:
1
g
|
Cholesterol:
2
mg
|
Sodium:
67
mg
|
Potassium:
828
mg
|
Fiber:
9
g
|
Sugar:
7
g
|
Vitamin A:
8413
IU
|
Vitamin C:
39
mg
|
Calcium:
88
mg
|
Iron:
3
mg
Notes
If you don't have a potato ricer, use a potato masher or even use a hand or immersion mixer.
The nutrition information provided are only estimates based on an online nutritional calculator. I am not a certified nutritionist. Please consult a professional nutritionist or doctor for accurate information and any dietary restrictions and concerns you may have.
Tips for making the best gluten free sweet potato gnocchi:
If you find that boiled potatoes are making the gnocchi too mushy, bake your sweet potatoes instead of boiling them. This helps to reduce the amount of water in the finished product and helps them to stay together better.
Use a gluten free flour that can be used 1 to 1…which is what I did in this recipe.
The best way to find out if you have added enough flour is to make a couple of pieces and put them in a pot of boiling water. If they fall apart, add more flour. After you make your gluten free sweet potato gnocchi a few times you will be able to tell by how it feels.
Make sure that you add a ton of flavour to the end product. A delicious tomato or (vegan) butter sauce and many spices make this meal a delectable treat that you will want to eat time and time again.
Let me know if you try this gluten free sweet potato recipe! You will love it! For what it is worth…my brother said it is the best thing I have ever made. 🙂 If you are looking for a delicious dessert recipe, check out my gluten free strawberry crumble recipe HERE.