When we think of summer, we think of one thing. Okay, that's not true. We think of a ton of things! Sunshine, travel, tacos, cold drinks, sweating, ice cream, mosquitos… but most of all, we think of the beach. Unless you're one of those weirdos who doesn't like the ocean. You probably don't like fun, either, but that's just speculation. For all my beach fans, here are some salty Instagram captions for beach pics that will make waves.
Because seriously, there isn't anything about the beach that sucks. Coolers of cold drinks, basking in the sun with a good book, playing football on the sand, jumping into the waves with your best friends. I don't think it gets better than that. One day at the beach and your camera roll is probably chock-full of great memories that you can't wait to share.
Once you've got your edits on and cropped your dad out of the background, a great caption is the only thing you'll need. Those little words and emojis at the bottom can really set the vibe for your snapshot, add some context, or just help communicate who you are – besides one fun-loving beach babe. Here's a few ideas to get your seas churning!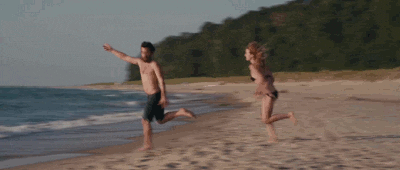 You might also like Citrus Pineapple Energy Smoothie, Summertime Bucket List or Swimming with Sharks in Hawaii.
You might also like 50 Instagram Captions for Nature Photos that will make Mother Nature Proud, 75 Love Instagram Captions for When your Heart is Full or 80 Coffee Instagram Captions for When you Need to Espresso Yourself.
Instagram Captions for Beach Pics
Stay salty, my friends
Summer should get a speeding ticket
Oh, baby I love your wave, everyday
Sunshine state of mind
Red, white, and a whole lot of blue
You, me, and the sea
Letting my worries wash out with the tide
You and me, as far as the eye can sea
Namast'ay at the beach
99 problems but a beach ain't one!
My favorite color is beach.
Long time no sea
Beach baecation ❤️
Shell-abrate good times
There's no place like home – except for the beach
Salt life, salt wife!
Summer should get a speeding ticket
The only BS I need is Beach & Sandals!
Good times and tan lines
Sand in my hair, butt in a chair
Resting Beach Face
Salty vibes
Beach days are the best days
Life is better in flip flops
I need six months vacation here, twice a year
Keep Palm and Carry On 🌴
Having a little slice of paradise
Happiness comes in waves
Aloha beaches
The tans have faded but the memories last forever
I washed up like this
Tropic like it's hot
I haven't been everywhere, but it's on my list
More Beach Captions for Instagram
A pineapple a day keeps the worries away
Sandy toes, sun-kissed nose
I'm a better person when I'm tan
Just you, me, and the sea
Call me, beep me, if you wanna beach me!
Love this shade of blue on me.
Beach hair, don't care!
Tropical state of mind
Sun days and heat waves
Don't get tide down
Happiness is the sunset and the sea
I've never been more shore
Mermaid kisses and starfish wishes
You had me at aloha
With you, life's a beach
Find me under the palm trees
Eat, beach, sleep, repeat
The waves of the sea help me get back to me
Lost at sea? I'm not shore
For shore
Talk to the sand
She's one crazy little sun of a beach!
Never stop shell-abrating!
The best kind of therapy is beach therapy
Sunshine on my mind
Me and the beach, we've got a sun-derstanding.
Can't tide me down this summer!
You could say I've been a little…nautical
Sunscreen. The answer is always sunscreen
How to get a beach body: Step 1: Have a body. Step 2: Go to the beach
Sweet and salty, just like me
High tide or low tide, they're always by my side
Whale, whale, whale, look what we have here
The sea, once it casts its spell, holds one in its net of wonder forever
Sandy toes, sun-kissed nose
Let me know if you have any other Instagram captions for beach photos that I should add to this list. If you are looking for more instagram caption ideas, check out 70 Instagram Captions for Sunny Summer Snapshots, 60 Paw-fect Instagram Captions for Dog Pics or 80 Instagram Captions for Selfies.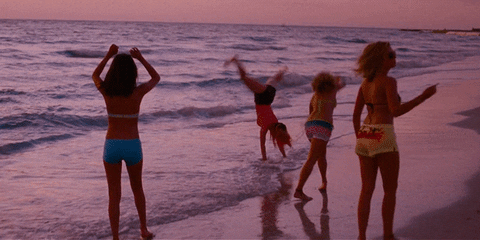 Make sure you follow me on Instagram!