Social media seems to be swamped with plant pictures right now – and for good reason. Plants are an easy way to make your home feel more at home. They're perfect for levelling up your decor and making your place seem more put together. And duh, they're great for your air quality or whatever. Here are my ideas for captions for plant photos that every plant parent needs. Puns for house plants and succulents are just what you need if you are looking for caption ideas for plants. If you are looking for plant mom quotes, I GOT YOU! Enjoy all these green thumb captions, my friends.
My algorithms know me so well, I get ads for plants. You could say I have kind of a green thumb. At least, that's what the FBI agent in my phone thinks.
All the Captions for Plant Photos
If your apartment or home is anything like mine, you've managed to keep at least one plant alive in there for a while. More advanced adults will have even more – maybe three or four plants. A big deal, I know. If this is you, well, I have all the captions for plant photos that you will love.
Being able to care for plants isn't something you're born with. It's a skill you have to learn over time. For ages I had a rock-hard black thumb – I even killed the invincible snake plants. Fake greenery was my only option.
I don't know if it's part of getting older and more responsible, or if it's just a symptom of being home a lot more, or if it's the heavily targeted ads and influencers with their lush fiddle-leaf figs, but I fell more in love with plants this year than ever before. I'm no expert, but I haven't killed many so far. Therefore, that's at least ten months of consistent care. If this sounds relatable, then these green thumb captions may give you some inspiration for the 'gram.
Are you a Proud Plant Mom, Too?
Be proud of me! I'm proud of you! And I want you to showcase your nurturing side, showing off each new bloom, highlighting each fresh leaf, in the best way I know: Instagram. Now, what you need are puns for house plants!
Whether you'll be holding your baby banana plant in your lap, or giving your sedum the spotlight, make sure you've got a caption worthy of the work you put into your green goblin. Check out my ideas below for captions for plant photos for a bit of fresh-picked inspiration.
If you like these captions for plant photos or if you are fond of plant mom quotes, you might also like Tips and Tricks to Keep Your Plants Alive, The New Plant Parent's Guide – Plant Care 101 or Caring for Succulents – 3 Tips.
Captions & Puns for House Plants
*whispers* Sometimes, I wet my plants
My cactus is lookin' sharp today
Turning over a new leaf
I'm a plant lady. What's your superpower?
You win sedum, you lose sedum
I'm powered by plants
Leaf me alone – I'm hanging with my plants
Best buds 4 life
It's not easy being so tiny and green
Sorry, I can't. I'm hanging with my plants
Life is shot. Get more plants
Plant lady is the new cat lady
You prickle my fancy
Just adding a little greenery to your feed today
TBH, I think there's still room in here for more succulents
You can never have too many plants
I'm sexy and I grow it
I don't need less plants, I need more shelves
It's beginning to look like a jungle
Ok, bloomer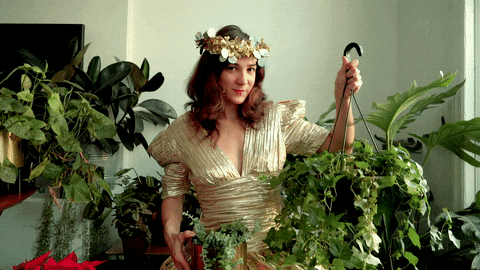 Caption Ideas for Plants and Greenery
I like to take long walks down the succulent aisle
I never want you to leaf me
Not dead yet…
Plants are my soil mates
Got a new plant friend today, so it's safe to say it's been good
Be honest, have I bought too many succulents?
I'm telling you once and flora
I like big plants and I cannot lie
Big plant mom energy
Planting this beauty on my feed
Botany plants lately?
I'm so glad I pricked you
I'm a proud plant parent
Cacti – the only pricks worth dealing with
The plant life chose me
The plants and I need a drink
Pot it like it's hot
Plant touch this
If you take a selfie with your succulents, is it called a face plant?
You're looking suc-cute-lent today
If you like these house plant captions and puns, you might also like 110 Instagram Captions for Birthdays to get the Party Started, Tropical Pineapple Scones or 32 Apple Captions for your Apple Picking Adventure 'Grams.
The Best Plant Mom Quotes
Like people, plants respond to extra attention
Plant puns are so ferny
I like my plants like I like my thumbs – green
Go ahead, plant one on me
I guess I'm a succulent mom now
Cactus makes perfect
My new addition is suc-CUTE-lent
All right, see if you can plant one on me now!
Always rooting for you!
Crazy plant lady
I'm a succa for you
Another day, another succulent purchase
More plants, less problems
Dear succulents, I promise I'll never desert you
Growth looks good on you
Just another succulent appreciation post
Always got thyme for you
Say aloe to my little friend!
Plants don't tell, they show
You're pretty fly for a little cacti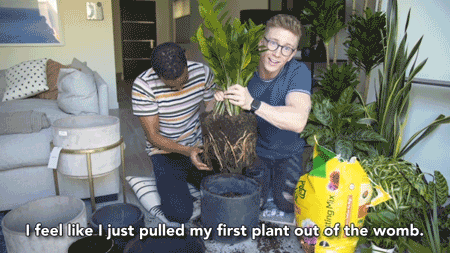 Green Thumb Captions for Instagram Pics
Green is the new black
I promise I'll never forget to water you
There's no such thing as too many plants
Showering my plant babies with all the love
My plants are the only positive vibes I need
Green queen
Home is where my plants are
Can't stop, won't stop buying plants
The best things in life are green!
I like to take long walks down the house plant aisle
Pretty fly for a cacti
Plants are my buds
How planttastic!
You make me thorny
Be honest, have I bought too many plants?
Always rooting for my sweet plant babies
Never afraid to be called a plant lady
Turn up the sunshine and flowers, please
Let's take a leaf of faith
Proud plant parent
We all Love Succulent, Cactus & Plant Puns
Just another house plant appreciation post
My plants are looking sharp today
My fake plants died because I did not pretend to water them
Support plant parenthood
TBH, I think there's still room in here for more house plants
I'm ready to take it from "cacti" to "cactus"
I wet my plants
I'm rooting for you!
Plant mom > dog mom
Welcome to my jungle!
Let me know if there are other captions for plant photos that I should add to this list. Puns for house plants and succulents are just what you need if you are looking for caption ideas for plants. If you are looking for plant mom quotes, I GOT YOU! Enjoy all these green thumb captions.
I have several other Instagram captions posts to check out, or look me up on Instagram.
Bella Bucchiotti is a storyteller, food lover, dog mom and adventure seeker living on the Pacific coast. She shares her passion for food, dogs, fitness, adventures, travel and philanthropy, in hopes of encouraging followers to run the extra mile, try new recipes, visit unfamiliar places and stand for a cause. Bella lives with Type 1 Diabetes and Celiac Disease.