Every holiday is a prime opportunity to snap some pictures for the 'Gram. Fun outfits, great food spread across the table, our fave friends and family surrounding us. Maybe even some cute lights or shiny décor. A tchotchke or two. The more there is to take in, the better the pics – am I right? If you are like me, you will want the perfect New Year's Instagram captions and puns, this blog with the best New Year's Eve caption ideas is for you. You may find some hangover Instagram captions in case you need those. Let me know your fave NYE captions that can be used on New Year's Day, too!
But New Years is an especially postable time. Not only do you have your cute NYE outfit to share, with a sparkly top you'll literally never wear again, or your midnight kiss photo that you actually took five times just to get it just right. You've also got the nine-picture-multi-posts with the summary of your year. And don't forget the 90 stories detailing the ups and downs of every. Single. Month.
I Love this Time of Year!
I'm not judging! Other people might not be about it, but I personally love seeing the highlight reels of your year. I love hearing your reflections on what's happened and dreams for what's next. Call me corny, but it makes me feel closer to the people I follow, even if they're someone who I've never met. And if we can use anything after this year, it's more closeness.
Plus, since I love this time of year and love taking photos, I am always searching for new creative New Year's captions to use in my Instagram and other social posts.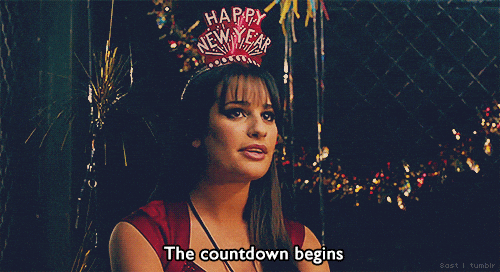 So go on – New Year's post it up to your heart's content! I can't help you wax poetic about the lessons you learned in the last 365 days, but I can get your brain churning on how to start your post – or maybe a quick snippy caption if you're a NYE minimalist. Read on for ball-dropping captions that fit every New Years party – big or small. New Year's caption ideas are what you need to go with your perfect NYE pic!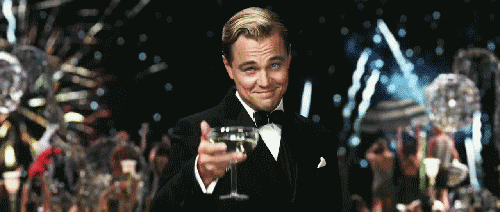 New Year's is all about new chapters, ball drops and a chance for a fresh start or a new beginning. Don't worry about making a New Year resolution if that isn't your thing! Whatever you are doing, if you take an Instagram pic and need the perfect captions or puns you are in the right place! If you have an Instagram photo for New Year's Day well I have the best NYE captions for your Instagram feed for you, too!
You might also like 66 Winter Instagram Captions That Will Give you Chills, 70 Christmas Instagram Captions to Deck the Halls + Your 'Gram or 75 Love Instagram Captions for When your Heart is Full.
New Year's Instagram Captions and Puns
May all your troubles last as long as your New Year's resolutions
My New Year's resolution is to remember to write 2022 instead of 2021
Thank u, next — Me to 2021
But first, champagne
Ah, the ball drop – it reminds me I'm not the only one who did that all year
All that glitters is…probably part of my outfit
I've got a bubbly personality!
"I never look back, darling. It distracts from the now." — Edna (from The Incredibles)
New year, same problematic me!
New year, same me!
Expecting a clever caption? That is SO last year
"It was the end of a decade, but the start of an age." —Taylor Swift
You were my cup of tea, but 2022 is all about champagne
New Year's Eve is the only day you'll catch me being bubbly
Tonight, we make resolutions we'll forget in the morning
You're prosecco-nd to none!
Page 1 of 365
Keep our expectations high and our resolutions low
New Year, same whatever
Starting 2022 strong because 2021 had me weak!
More New Year's Eve Caption Ideas
Sorry in advance for writing 2021 on everything for the next six months
Get in, b*tches – we're making even better bad decisions than last year.
Out with old, in with the golden
I can't believe it's been a year since I didn't become a better person
Up next: the best year of my life
I'm still the same person I was last year—now I'm just hungover
Less bitter, more glitter
365 new chances to stay in bed!
"Whatever it is you're scared of doing, do it. Make your mistakes next year and forever." — Neil Gaiman
"A little party never killed nobody." — The Great Gatsby
Tell Father Time not to wait up – I'll be gone 'til next year.
New Year? I didn't even start the old one yet!
Here's to the year I finally get my sh** together.
One! More! Year! One! More! Year!
Starting the year off right
Cheers to the people who love us, the losers who lost us, and the lucky ones who still get to meet us
10 p.m. is the new midnight
Ah, I remember 2021 like it was yesterday…
I've got 2022 vision
Here's to 2021 – No thanks, never again
The BEST New Year's Captions
Here's to another year of chances
The best really is yet to come
🧑🥂👩💏
You know how I always dread the whole year? Well, this time I'm only going to dread one day at a time." — Charlie Brown
9 p.m. is the new midnight
The best endings always have confetti
Expecting a clever caption? That was so last year
12 months to a better you
⌚🔢🕛🎊
Here for the champagne
New Year? I just got used to this last one!
Only Gouda times at this family gathering
Keeping things bubbly
2021, you're toast
Where there's wine, there's a way
I would quit drinking champagne for my New Year's resolution, but nobody likes a quitter
New year, same 'ole me
My New Year's resolution is to stop hanging out with people who ask me about my New Year's resolutions
My resolution was to read more, so I put the subtitles on my TV
May all your troubles last as long as your New Year's resolutions
You might also like 60 Cork-popping Champagne and Wine Captions or 6 Important Things To Do Before the Year Ends.
NYE Captions for When the Ball Drops
All that glitters is…probably part of my outfit
No need to look for your midnight kiss. I'm right here
My only rule this year: wear something you can dance in
I haven't been this excited about a new year since last year
Glitter is my signature colour
2022, you're toast
Sip sip, hooray!
3️⃣1️⃣🕛1️⃣
10 p.m. is the new midnight
New year. Same me. Bigger goals
New year, same me because I'm already perfect
In 2022 I want everyone to look at me the way I look at NYE fireworks
365 new days. 365 new excuses
👪🌃🥂🎇🎄
Trust the magic of new beginnings
Cheers to the people who love us, the losers who lost us, and the lucky ones who get to meet us
Any excuse to wear sequins
I wish you ✨ happiness in the new year!
Headed into the new year like…
Happy New Year! 🎊🥂🍾
….and One Last NYE Caption!
"Sometimes it feels like there are so many things in this world we can't control. Earthquakes, floods, reality shows… But it's important to remember the things that we can. Like forgiveness, second chances, fresh starts… Because the one thing that turns the world from the longing place to a beautiful place… is love. Love and any of its forms. Love gives us hope… Hope for the New Year. That's what New Year's Eve is to me. Hope and a great party!" — New Year's Eve
Let me know if you have any favourite New Year caption ideas (and possibly your fave hangover captions) that should be on this list of New Year's Instagram captions. Do you have any creative New Year's captions that you want to share?
Happy New Year! If you aren't already following me on Instagram, please do!
Pin image credits: Kanea and Zamurovic Brothers
Bella Bucchiotti is a storyteller, food lover, dog mom and adventure seeker living on the Pacific coast. She shares her passion for food, dogs, fitness, adventures, travel and philanthropy, in hopes of encouraging followers to run the extra mile, try new recipes, visit unfamiliar places and stand for a cause. Bella lives with Type 1 Diabetes and Celiac Disease.