Your dog works hard to keep you happy. Sure, it's not hard work for him – after all, loving you is easy and comes naturally to him! But we can't pretend that it's not his literal life's work to bring your joy and love you hard. I know my dog Beau takes his job very seriously. Here are my fave Instagram captions for dog pics and some dog puns in case you are looking for inspiration. If you are like me, with thousands of photos of your pet, then these dog Instagram captions are for you!
Unleash the cuteness with these pawsitively paw-fect dog Instagram captions! Bark out loud and share the love for your furry best friend. These wag-worthy dog captions are guaranteed to fetch double taps!
Since we're known as the generation who adopts dogs instead of having kids, it goes without saying that the undying love is a two-way street. I love spoiling my dog – buying him treats, new toys, taking him on adventures, even just taking a break to scratch his head and stare into his eyes. Saying "my dog is my life" is one of the least dramatic things I could say.
And like some people obsess over their babies, we dog-lovers obsess over our pups. There's nothing cuter than every single thing your dog does: when she rolls over in bed, when she yawns, the way she walks…it's impossible not to share those moments with the world!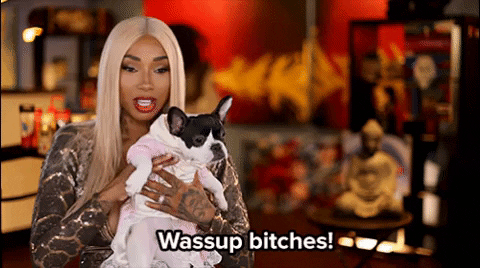 The perfect pet pic deserves a unique dog name and also the perfect caption, so if you need a little inspo for future posts, scroll on for a handful of ideas to get you started! You will love these Instagram captions for dog photos! I am rounding up the list of the best dog captions for you to cut, paste, and post.
Instagram Captions for Dog Photos + Dog Puns
It's my paw-ty, I can bark if I want to!
This cute face made possible by belly rubs
Warning: I could become even cuter than this
I may snooze, but I never lose
Out on the town for a little barkour!
Sweet dreams are made of treats
Everything I do, I do with paw-fect form
Now giving nap lessons
Will work for treats!
Just wondering why nobody is giving me treats rn hbu?
Please, hold your appaws
Always DTS: down to snooze on a sunny patch of floor
Ready for a pawsome adventure!
What's up, dog?
Dude, where's my ball?
Would rather be licking your face right now
Paw-perazzi caught me doin' my thing again!
Cutest dog in the world, reporting for duty!
I love you more than sniffing bushes
Raise the woof!Don't stop retrievin'
Even More Dog Puns + Dog Captions
I'm mutts about my dog
You're looking quite fetching today
Can't escape the pup-arazzi
First he stole my heart, then he stole my bed
Crazy dog lady
We have the ulti-mutt friendship
Just taking some time to paws and reflect
Life's not ruff when you're around
Hope you have a pawsome day
Easily distracted by dogs
I have too many dogs, said no one ever
Coffee and dogs make the world go round
Dog hair is my glitter
Beware of the dog, he will steal your heart
Fur-iends through thick and thin
I woof spending time with you
Do you like my self-pawtrait?
EmBARKing on a new journey
Getting a new LEASH on life!
Life would be ruff without you
I wish I could text my dog
My dog is cooler than your dog
Never trust a person who doesn't love dogs
First they steal your heart, then they steal your bed
You are pawfection
This friendship is fur real
Stop hounding me!
I'm a su-paw-star
Dog mom AF
You had me at woof
I'm not single I have dogs
Stop trying to make fetch happen. – Regina George, Mean Girls
The more men I meet, the more I love my dog
Be the person your dog thinks you are
It's not drinking alone if your dog is home
Dog people are my kinda people
And they called it puppy love – Paul Anka, Puppy Love
It really is the dogs house, we just pay the bills
I'm here to pet all the dogs
Is it FriYAY yet? It's been a ruff week
All the Funny Dog Captions for Instagram
She's a bark-eting expert
I'm not fat, I'm husky
My dog likes to get paw-litical
I love camping with my dog because she's great at ruffing it
B****, paw-lease.
Stop, drop, and roll over
Stop trying to make playing fetch happen.
Pup of joe
Happiness is a warm puppy – Charles Schulz
I'm all about that pug life
No matter how little money and how few possessions you own, having a dog makes you rich – Louis Sabin
The road to my heart is marked with paw prints
My fashion philosophy is, if you're not covered in dog hair, your life is empty – Elayne Boosle
Love is a wet nose and a wagging tail
I'm a VIP: VERY IMPORTANT PUPPY
Warning: Cuteness Overload!
Rescued by my rescue dog
Excuse me while I be absolutely adorable
I woof spending time with you
All dogs are good—some are just a little ruff around the edges
We all know dogs are a man's best friend, but also a girl's best friend if you ask me! Dog owners and dog lovers alike all know how a good boy can change a ruff day to a goodest day! Let me know if you have any Instagram captions for dog photos or dog puns that I should add to this list! Don't forget to follow my dog Beau on Instagram!
You Might Also Like
Bella Bucchiotti is a storyteller, food lover, dog mom and adventure seeker living on the Pacific coast. She shares her passion for food, dogs, fitness, adventures, travel and philanthropy, in hopes of encouraging followers to run the extra mile, try new recipes, visit unfamiliar places and stand for a cause. Bella lives with Type 1 Diabetes and Celiac Disease.