What's cooler than cool? Canada! And who's nicer than nice? Also Canada! Literally. It's been scientifically proven that Canada citizens are some of the nicest in the world, and I'd have to agree. I know I might be biased, but…who can argue with science? Being the nice Canadian that I am, I have put together these Canada captions, puns and quotes. These are the BEST Canada Instagram captions and Canada puns. Now go ahead and post Canada Day, landscape or travel photos using these Canada caption ideas for Canada pics.
Canadians are so nice because the best parts of life are all packed into this giant, beautiful country, full of must-see spots. Whether you were born and raised on lush Canadian soil, or are just stopping through to check it out, it's time to pack a bag and get exploring. You may find yourself doing a lot of driving in between, stopping at a lot of Tim Horton's, and consuming way more maple syrup than you ever anticipated.
But real talk, Canada kinda has it going on! There's so much packed into this tiny (giant) place. Scenic nature, of every single kind: beaches, mountains, lakes, cities. An incredibly diverse population, with people from all over the world intermingling and sharing the best parts of their culture. It's literally impossible to run out of new things to do or take photos of.
Canada Day Captions and Canadian Food Captions
Not to mention all the Canadian festivities like Canada Day and amazing food…talking to you poutine and Nanaimo bars. Plus, did you even visit Canada if you didn't make a stop (or 10) at Tim Hortons? I think NOT!
If you are looking for Canada Day captions, my two fave are Happy Canada D'eh! and Happy Birthd'eh, Canada! 🇨🇦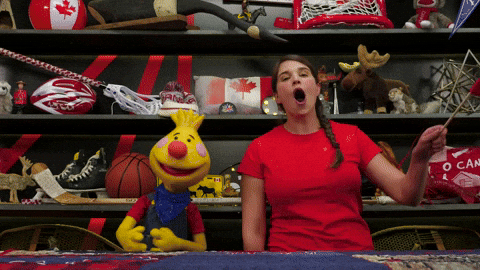 Read on for all the BEST Canada Instagram Captions
Of course, I could spend hours telling you all the must-see spots in my favorite place. But that, my friends, is for a different post – one where I convince you to buy a one-way ticket and settle down next door so we can have wine nights in the yard. This post is for when you're already there, maybe for a week or two, taking so many pictures you get carpal tunnel.
It's so pretty. You literally won't be able to stop.
But once you're rested up in your cozy bed, wrist brace strapped on, you'll need the perfect caption to capture the feeling of being in the perfect place. That's where this post comes in. I've got all the inspiration you need to help your next Insta post do this breathtaking place some justice.
Caption ideas for Canada pics are what you need for all your Canada Day, travel and landscape photos. We know you have a lot to post because Canada is extremely picturesque.
If you like these caption ideas for Canada, you might also like Road Trips in Canada, Reasons to Love Canada or 66 Winter Instagram Captions That Will Give you Chills.
Canada Caption Ideas for You!
I'm Canadian. What's your superpower?
The world needs more Canada 🇨🇦
Meanwhile, in Canada…
In Canada, it's beer, hockey, and then everything else
Whistler while you work!
Aboat time
Canada is eh okay
Cana-duh
Just another Tuesday in Canada
Canada is always a good idea
I Canada believe this place
I'm on the eh Team
Home is where the maple leaf is 🍁
Canada is eh okay
Welcome to Canada, eh!
I can't be-leaf how beautiful Canada is! 🍁
Canada is double-double the fun
I just found out Canada isn't real. 🇨🇦 Turns out it was all mapleleaf
On behalf of all Canadians, sorry for being so awesome all the time
Canadian weather is snow joke
Captions, Puns and Quotes about Canada
Canada, the worlds best kept secret
Canadians are 'eh holes
Canadian Made. Canadian Raised.
Don't moose with us!
Juana go to Canada?
All my best buds are from Canada 🇨🇦
Hey Canada, you are dope!
You're g@nja have a good time
Me + Canada: weed be good together
One day, Canada will take over the world. Then you'll all be sorry
Yukon see the Northern lights from here!
Isn't it Trudeau?
Tim Hortons. The first stop of every road trip in Canada
Canadian girls do it better 🇨🇦
If you didn't roll up the rim, did you even have coffee?
We're having a part-eh!
What the puck!
Social distancing. Please stand 46 Timbits apart.
Take a peak around
You know you're in Canada when you describe location based on which Tim Horton's it is by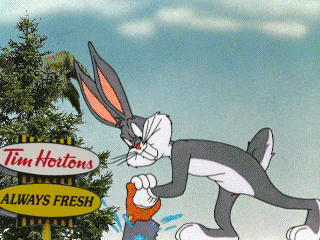 Canada Puns and Canada Captions
You've really peaked my interest
There's snow place like the mountains
Maybe she's born with it. Maybe it's maple leaves
Canada is a-moosing
Canada is hockey
Nice to peak you
Hi Canada, it's ice to meet you! 🇨🇦
Canada wins best in snow
It's the moose wonderful time of the year
Tundra bolt and lightning. Very, very frightening
May the forest be with you.
This trip cost us deerly…but it was worth it.
To summit all up, this trip has been amazing.
I went to Labatt for you
You're making a mountain out of a Molson
I'll BC-ing you later
Canada is always a good idea 🇨🇦
Canada: The world's best kept secret
Home is where the maple leaf is 🍁
Dock to the hand!
So Many Canada Instagram Captions for all Your Canada Pics!
Sooner oar later
Made in Canada 🍁
Oh, Canada! 🍁
You can't buy happiness, but you can live in Canada. And that's pretty much the same thing
On behalf of all Canadians, sorry for being so awesome all the time
Keep calm and…I'm Canadian. I'm always calm
Happy Canada D'eh! 🇨🇦
I'll be dam'ed
Happy Birthd'eh, Canada! 🇨🇦
Someone is talking badly about Canada, but I was having Nunavut!
Oh, C🍁n🍁a🍁d🍁
I hope you found what you were looking for with these Canada captions, puns and quotes. I will keep updating as I think of new Canada Instagram captions and Canada puns. Tag me if you post any photos using these Canada caption ideas for Canada pics.
If you are a fan of this list of the BEST Canada Instagram captions and Canada puns, I have several other Instagram captions posts to check out, or look me up on Instagram. When planning a Canada Day party, make these tasty Canada Day Cookies with Cream Cheese Sprinkle Dip or this Classic Canadian Caesar Cocktail – Canada's National Drink.
If you are looking for Canada Day party food ideas check out these Red & White Themed Canada Day Recipes.
Bella Bucchiotti is a storyteller, food lover, dog mom and adventure seeker living on the Pacific coast. She shares her passion for food, dogs, fitness, adventures, travel and philanthropy, in hopes of encouraging followers to run the extra mile, try new recipes, visit unfamiliar places and stand for a cause. Bella lives with Type 1 Diabetes and Celiac Disease.